New Customized Calendar Feature
FltLogic has added settings to the monthly calendar. The settings allow each user to customize what is displayed on the calendar. Using the settings button (circled in red) you can turn off and on the following information: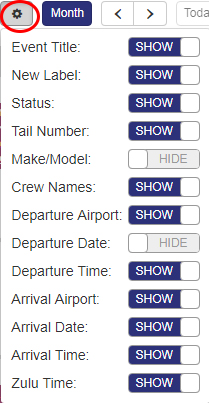 Event Title
New Trip Badge — remains on new trips for 24 hours
Status Badge
Tail Number
Make/Model of aircraft
Crew Names
Departure/Arrival Airport
Departure/Arrival Date
Departure/Arrival Time
Zulu Time — show flight times in Zulu time
The calendar can be customized by each individual user. This allows the scheduler/dispatcher to view what they need and other users to see different information.


New Open Trip Feature
The open trip feature is designed for flight departments using contract or part–time pilots. The open trip feature allows for flight events to be scheduled without a crew. When an Open Trip is created, all pilots authorized to fly the selected aircraft will receive a notification with the trip details. Each PIC or SIC can Accept or Reject the trip directly from their email, indicating their availability to fly. Pilots can also call or text their office and the admin or scheduler can update their availability for them.






Not Crewed/Open Trip Icons




Once pilots have responded, the scheduler can select the crew and a trip will automatically be created in FltLogic. The calendar will now show two different warnings for trips not crewed. The standard "Caution Icon" will show on the calendar for a standard trip either missing crew or with another conflict. Trips created with the Open Trip function will have a different icon indicating "waiting to be crewed". (Icons shown above right)

New Medical Alert Feature
When creating a trip for a passenger with a medical alert in the User Profile, the scheduler will get a pop–up notice alerting them of the condition. There will also be an icon on the trip sheet (details on hover over).
Other New Features Implemented

Requested Event Counter — A counter on the event list will now show the number of requested events waiting to be Approved or Rejected. This added feature eliminates the possibility of missing an email request.

Roles & Permissions — When creating new users in the system, roles and permissions that can not be combined will be grayed out, indicating they can not be used with the selected role. This does not affect existing user profiles until you edit the user information.



Flight Icon — We've added an airplane icon to the calendar for all flight events. This makes it easy to differentiate the flights from other types of events. The image to the right shows the flight icon and completed trip checkmark.

Completed Event Checkmark — Users who have the "View Completed Events" selected in their user profile, will now be able to distinguish the trips that are completed with a checkmark icon next to the flight icon (shown above).

Archive Tab — There is a new tab available to archive completed trips. This additional tab makes managing completed trips easier for busy flight departments.









Default Fuel Burn/Purchase Settings — In the Aircraft Listing under Basic Information you can now select the default fuel burn unit and fuel purchase unit. These defaults are for reporting flight actuals on the website. Pilots using the FltLogic App for reporting must select the default units in the app under Settings.


Current App Versions
iOS Version: Version 2.1.2, Build 102
Android Version: Version 1.6.3.1, Build 161
If you are not running the above version, please update to the latest version.

Your FltLogic Support & Training
The FltLogic Team, Denise, Paul, and Rena, are available for demonstrations, training and technical assistance weekdays from 9:00 am to 5:00 pm EST. Using Zoom's interactive web meetings, we can quickly demonstrate new features and assist with any problems.

On–call emergency support after–hours and on weekends is also available by calling (203) 262–8900.