Below are new features recently implemented in FltLogic to improve
your experience and enhance your productivity.


Full Route Available in Calendar Pop–Up
We've added additional information to the pop–up box in the Calendar View. You can now see full route detail when you click on a flight event on the Calendar.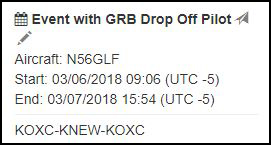 HOBBS In & Out Fields
We've added an additional field for reporting HOBBS time. Utilizing the In & Out fields will allow for additional aircraft reporting in the future. We will announce these reports as they are added.
Alternate Trip Sheets & Pilot Logs
You may see icons for alternate Trip Sheets and Pilot Logs. These alternate views provide different fields or an alternate view of the sheet or log.



Your FltLogic Support & Training
The FltLogic Team, Denise, Paul, and Rena, are available for demonstrations, training and technical assistance weekdays from 9:00 am to 5:00 pm EST. Using Zoom's interactive web meetings, we can quickly demonstrate new features and assist with any problems.

On–call emergency support after–hours and on weekends is also available by calling (203) 262–8900.