Below are new features recently implemented in FltLogic to improve
your experience and enhance your productivity.


Passenger Permission to View or Hide Leg Details
We've added a new permission for Users. The new permission, when toggled on, allows a passenger to view all legs of an event, regardless of whether they are on each leg. If this permission is not selected, a passenger will only see the details of the legs he or she is scheduled on. This permission can be combined with both Primary Passenger and Passenger roles.

2018 Schedulers & Dispatchers Conference
Stop by Booth 2125 and visit us at this year's Schedulers & Dispatchers Conference. Staff will be available to discuss all the products and services available through FltPlan.com.
FltLogic iOS Companion App
Several new features have been added to the iOS version of the FltLogic Companion App, available in the Apple Store. You can now add a last minute event to your FltLogic Calendar through the FltLogic app.

Additions to the Android Companion App will follow shortly.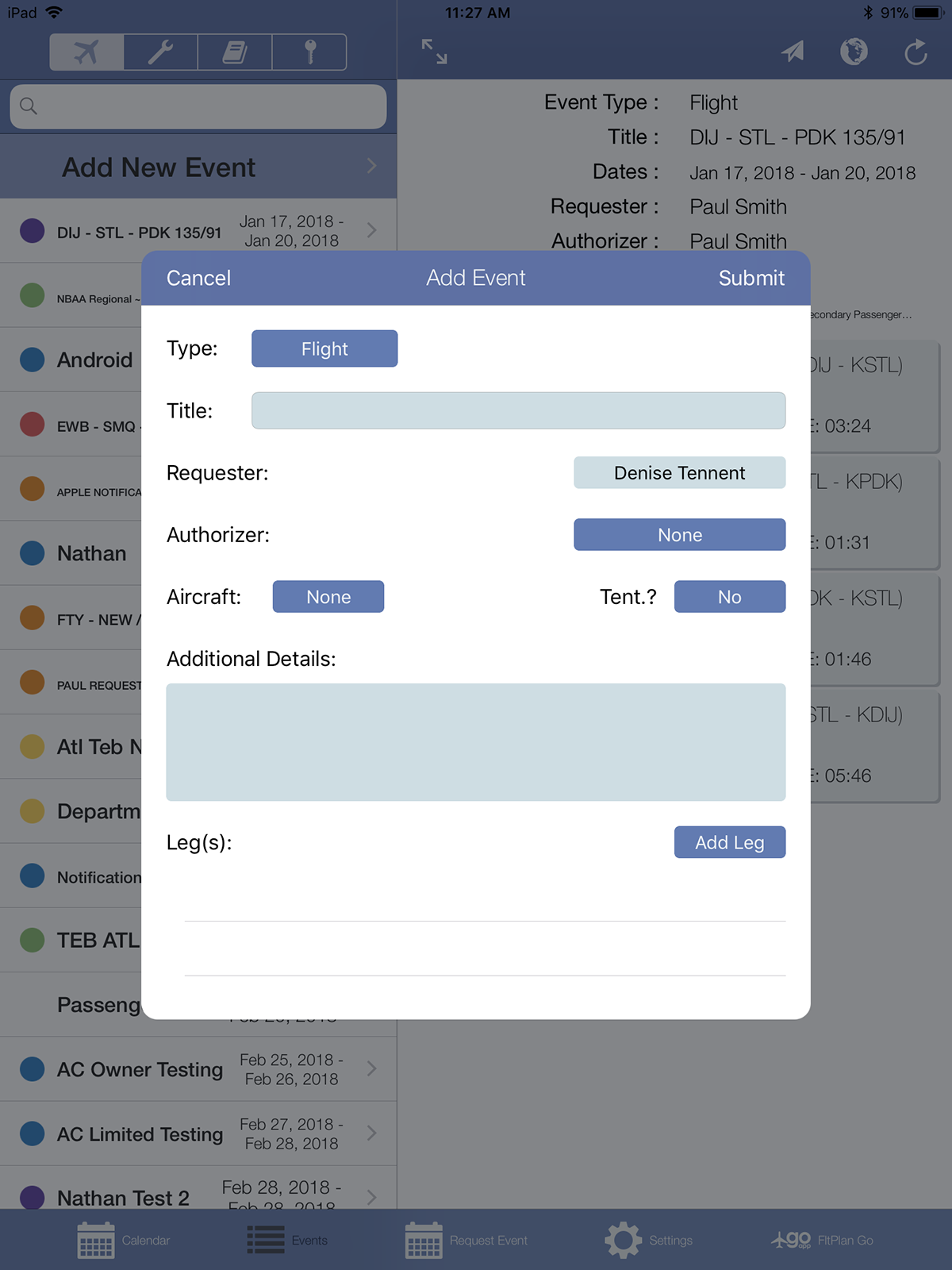 Apple Notifications
We have re-activated the Apple Notification System for New Events and Event Changes. When an event is created or changed, participants who have the FltLogic iOS App on their device will receive notifications on their iPad, iPhone or Apple Watch. Notifications must be enabled in the Device Settings and within the FltLogic App, under Settings, for notifications to be received.

To prevent change notifications from being sent during trip planning, simply check off the Tentative box in FltLogic. When the trip is finalized, remove the Tentative setting and Update the event to re-start the notification system.

Notifications are sent when a new event is created, when an event is changed, and four hours prior to departure.

Your FltLogic Support & Training
The FltLogic Team, Denise, Paul, and Rena, are available for demonstrations, training and technical assistance weekdays from 9:00 am to 5:00 pm EST. Using Zoom's interactive web meetings, we can quickly demonstrate new features and assist with any problems.

On-call emergency support after-hours and on weekends is also available by calling (203) 262-8900.