We've added even more features to FltLogic to improve your experience and enhance your productivity.


Pilot and Aircraft Detailed Reports
There are new reports available for detailed flight information by pilot and aircraft. The reports are generated for a range of dates selected by the user.



Click on the magnifying glass icon to view trip details. The aircraft
detail includes:

Departure, Arrival, Flight Times, Flight Total, Block Total, Fuel Burned (if reported), Day/Night Landing, and Miles Flown. The Aircraft Report can be run by Event Type and date range.



The pilot details are available under Reports > Pilot Overview > Paper Airplane Icon. Pilot details include:

Tail Number, Departure, Dept. Time, Arrival, Arrival Time, Block & Flight Time, PIC Hours, SIC Hours, Day Hours, Night Hours, Instrument Hours, T/O Day or Night, Landing Day or Night, Approach #, Approach Type, # of Pax, and Crew Initials.
Preferred FBOs
Many users asked for the ability to select certain FBOs as Preferred. We've added this feature in the Locations area. The Locations area is also where you would add a private hangar. To set up a Preferred FBO for any airport, go to Locations and search for the airport ID. Select the FBO you want as your default and click the blue Save button to the right of the selection.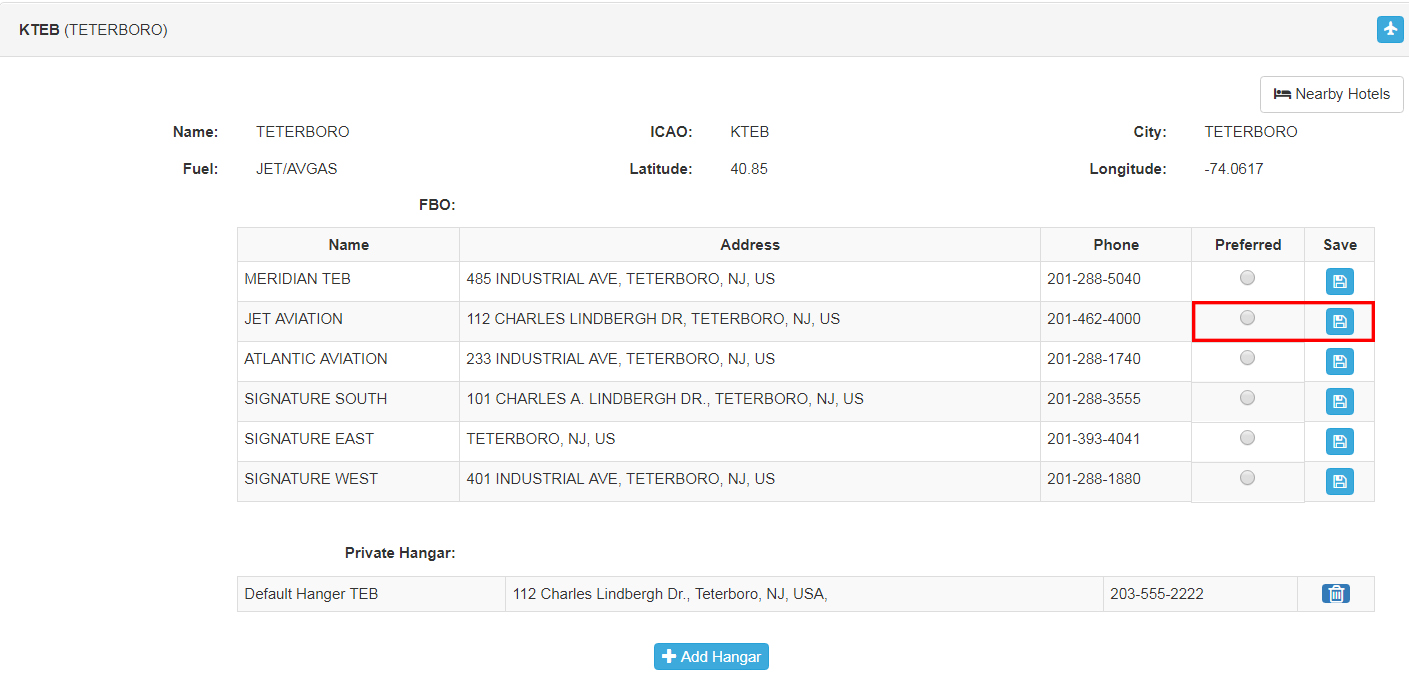 Private Hangars are not FBOs and can't be selected as a default. If you want your private hangar to be the default at your home airport, simply select it in the first trip you create, and it will remain the default until you over–ride the setting with a Preferred FBO selection.
Quick Change Buttons on Trip Sheet
When viewing a trip sheet, you should notice quick change buttons at the top. These buttons quickly take you to the area to add legs to a trip or edit the trip details.

Reports for Pilot, Passenger, and Aircraft Expenses
You can now view a report of all expenses reported by pilot, passenger, or aircraft. Simply click on the credit card icon next to the user or aircraft name. Expenses are grouped by month.


Busy Timer


We've added an icon to indicate when the system is "busy" or working. You will see the spinning icon on the top left of your screen when the system is processing information.
Current App Versions
iOS Version: Version 2.1.2, Build 102
Android Version: Version 1.6.3.1, Build 161
If you are not running the above version, please delete the app and install the latest version.

Your FltLogic Support & Training
The FltLogic Team, Denise, Paul, and Rena, are available for demonstrations, training and technical assistance weekdays from 9:00 am to 5:00 pm EST. Using Zoom's interactive web meetings, we can quickly demonstrate new features and assist with any problems.

On–call emergency support after–hours and on weekends is also available by calling (203) 262–8900.