FltPlan.com PDC & eAPIS Services Now Integrated with Garmin Pilot 9.7
The latest release of Garmin Pilot offers FltPlan.com eAPIS and PDC subscribers the ability to access PDCs and create/submit eAPIS manifests. In addition, route suggestions and optimized routings from FltPlan.com can now be viewed on Garmin Pilot.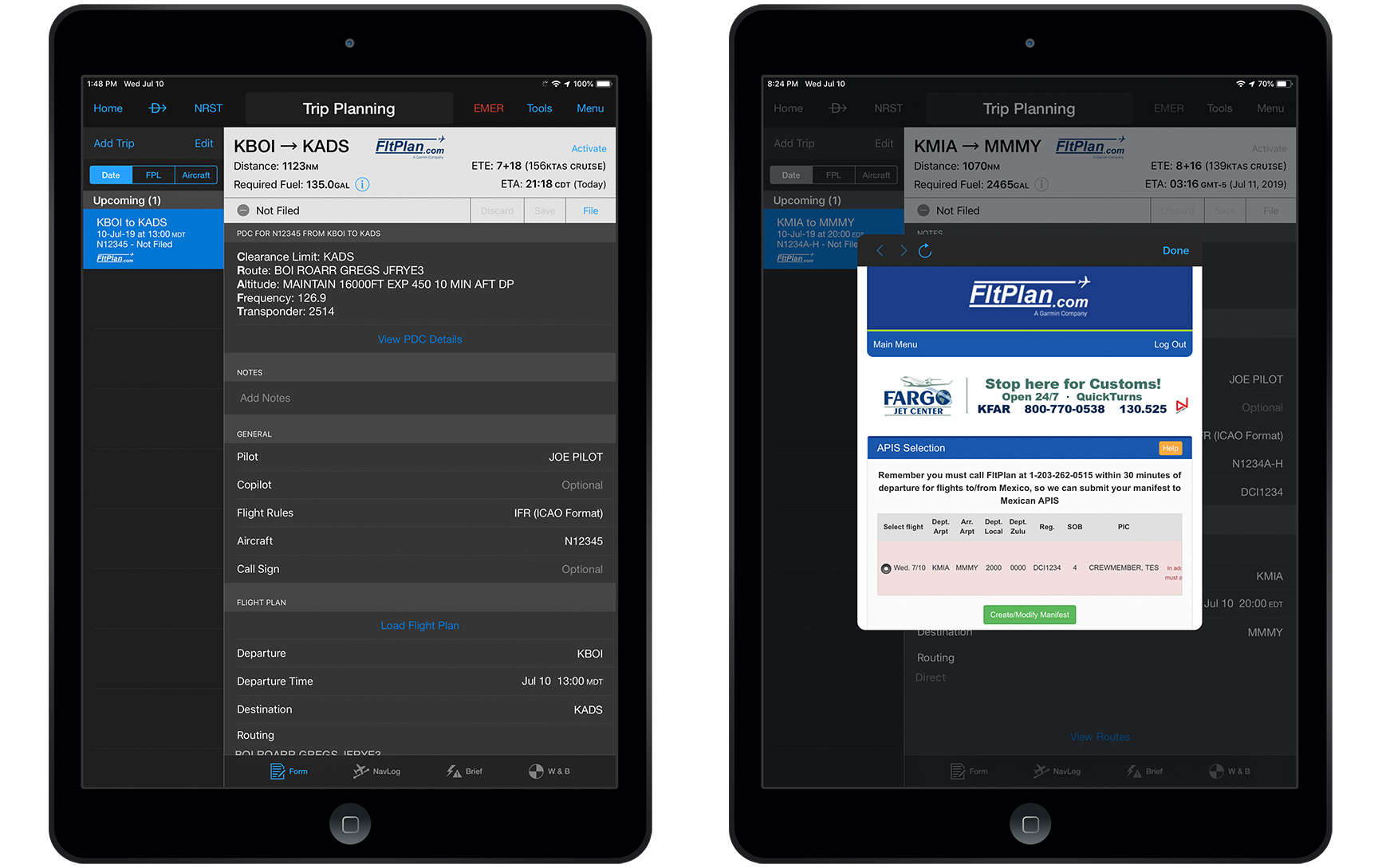 FltPlan PDC and Garmin Pilot
Pre-departure clearances (PDCs) are text clearances issued for an IFR flight. A PDC is the same as receiving a verbal clearance from Clearance Delivery.

PDCs include:
Filed route
Amendments to your route
Cleared altitude
Transponder code
Departure frequency
Any special instructions
For FltPlan PDC subscribers, Garmin Pilot will display the pre–departure clearance 20 to 30 minutes before the scheduled departure time. PDCs save time and reduce ATC communication errors and are available at 70–plus airports in the United States.

FltPlan eAPIS and Garmin Pilot
Garmin Pilot users who subscribe to FltPlan's eAPIS premium service can enter and upload passenger and crew manifests to Customs & Border Protection. For flights departing from the United States to Canada, Mexico, and the Caribbean, a message will appear on the Trip Planning page in Garmin Pilot to notify users that a manifest is required. Once the manifest has been successfully submitted, a confirmation message will appear on the Garmin Pilot Trip Planning page.

Route Suggestions and Optimized Routing
FltPlan.com route suggestions and optimized routing are available in Garmin Pilot. To access, select View Routes from the Garmin Pilot Trip Planning Page, then choose either Preferred Routes or Optimized Routes.

Integration of these features represents the next step in harmonizing Garmin and FltPlan.com offerings and adds to the previously announced integration of an interactive, optimized route mapping tool on FltPlan.com.

Visit our PDC and eAPIS Premium Service pages to learn more.

Not a Garmin Pilot subscriber? Visit flyGarmin – Garmin Pilot.